Hello #RISHvibe blog readers, we are so excited to be Rish Bridal stockists and to give you all some information about our shop, the Rish selection we carry, and our best tips for bridal shopping! We hope this blog helps future brides through the process of finding their dream dress and gives them some inspiration to fall in love with a Rish gown!
Before we get into the dress shopping tips and tricks, we want to introduce ourselves to the Rish blog readers! Revelle is a family-owned business, and we just celebrated our 5th birthday last month.
We carry a selection of indie designers and work closely with each of them to curate a uniquely beautiful collection of gowns for the effortlessly cool bride. We are located in Westboro in Ottawa, Ontario, at 285 Richmond Road and are open Wednesdays through Sundays every week. We are by appointment only and our hours vary each day, however, we have an easy online booking system through our website that lists all available consultation times on whichever day is most convenient for you. 
We have different consultation types available to appropriately cater to each client, and if there is ever any confusion about which consultation type is right for you, we offer a pre-consultation service to give you some extra guidance.
In regards to providing our clients extra guidance, we know and understand how stressful the dress shopping experience can be, so it is our mission in every interaction we have with our future, past, and current clients to make the experience an easy-going, fun, and special as possible! We have compiled our best tips and tricks for dress shopping to share with our readers
here
Tip #1: Start with deciding on the basics, such as your venue, date or month for the wedding, and a theme or vibe for the overall venue. We recommend doing this to make it easier to picture yourself walking down the aisle when trying on different dresses because the kind of wedding you are having can change what you are looking for dress-wise. Keep in mind, when picking your date, should ideally be about a year and a half away to give yourself enough time to dress shop and book any follow-up consultations, if necessary.
Tip #2: Create a Pinterest board for the style of dresses that you like and start doing some research to see which bridal boutiques near you carry the styles you are gravitating towards.
Tip #3: Before booking your first consultation, decide on an ideal budget and a firm budget so that you can take that into consideration when choosing where to book. Make sure that the bridal boutique you are going to has a few designers in the price range you have decided on so that you can try a variety of styles while staying within budget. This is super important so that you don't end up trying dresses out of your budget and then fall in love with something that exceeds the price limit you are comfortable with.
Tip #4: Start by booking one consultation at a time because there is always a possibility that you will find your dream dress your first time out! We recommend starting with the boutique that seems to have a collection that aligns the most with the style you are looking for to start the dress shipping process on a good note!
Tip #5: Take advantage of the services your local bridal boutiques offer! For example, here at Revelle, we offer a pre-consultation service where we give our clients the opportunity to speak to a Revelle stylist who will talk through any questions and concerns with the bride and give the bride some more direction about what they may love at Revelle based on their vibe, style, price point and timeline. We also love doing pre-consultations because we get to know the brides better before they come in so we can build a stronger relationship with each of our brides.
Tip #6: Our final tip is to keep an open mind when you come in for your consultation! While you will probably have a good idea of what you're looking for when you come in, be open to your stylist picking a wild card for you and try gowns that are catching your eye, even if they aren't what you expected to like. We often see brides come in with a set idea of what they want and then fall in love with something completely different!
Speaking of falling in love with gorgeous gowns, here at Revelle we have fallen in love with our Rish dresses and we are so honored to be Rish Bridal stockists. The Rish gowns in our collection vary from crepe to lace to extra sparkly and we love each of them for different reasons.
What we love about Rish is how unique their designs are and the fun extra pieces that they create to add to their base dresses. A great example of this is one of our fave dresses, Northern Star, which is a gorgeous crepe dress with minimal detailing and a fun center slit that is taken to the next level when paired with the Lilya Sleeves.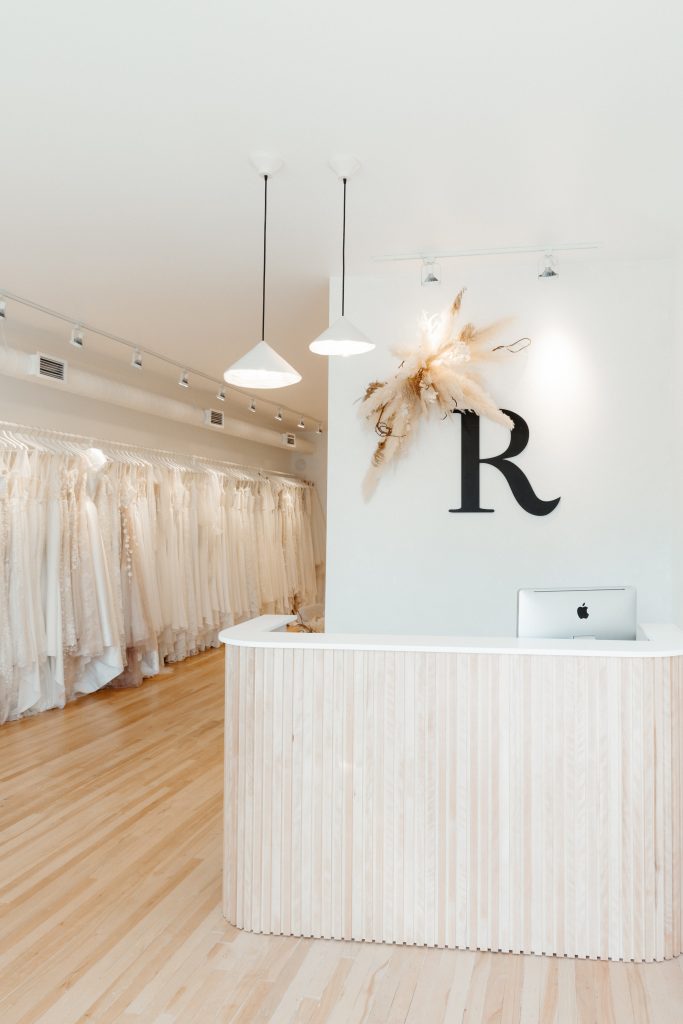 We love this idea because it gives the bride the option of styling the dress with and without the sleeves to create two looks with the same dress. 
 We also recently received some beautiful overskirts from Rish, like the Beline overskirt, that is paired with the Beline dress, a simple yet stunning gown that has a mesh bodice with lace detailing that covers the bodice and trails onto the sleek crepe skirt. 
When paired with the Beline overskirt, a beautiful tulle skirt with lace detailing to create a seamless transition from the bodice to the skirt, the bride has, not one, but two impeccable wedding day looks! Some of our other Rish favorites include Pallas, for the bride who wants to sparkle and shine in this glamorous fitted dress with a deep v-neckline and tons of shimmer, and Pandora, for the boho bride who wants something intricate but uninhibited in this gorgeous fitted gown with fun, bold lace. We also have Carolina, Chloe, Selene, Theia, and Yara, each as beautiful as the next!
We hope that this blog gives you some helpful information to take with you along your dress journey. Happy shopping and we hope to see you in a Rish gown here at Revelle!