We are so excited about our upcoming trunk show at Ellie Sanderson bridal that will take place at their Beaconsfield location(1 London End Beaconsfield Old Town Buckinghamshire) To book click here.
This is a wonderful opportunity to Invite the woman of the hour, Ellie Sanderson herself, to be a guest writer on our #RISHvibe blog and share with us her best tips for finding your dream wedding dress.
Voted the U.Ks top long-standing retailer by The Bridal Buyer Magazine and winning the top UK retail website, this super experienced bridal expert knows a thing or two about how to choose a wedding dress!
Hello #RISHvibe blog readers I'm so excited about the upcoming trunk show and I'm looking forward to seeing you all.
Over the years I've noticed that finding your wedding dress is equal parts exciting and utterly thrilling.
For some women though the thought of shopping for the most special outfit of her life can however be utterly overwhelming and even a little bit scary. In this next blog I hope to dispel a few myths and share with you the best ways to go about choosing you wedding gown.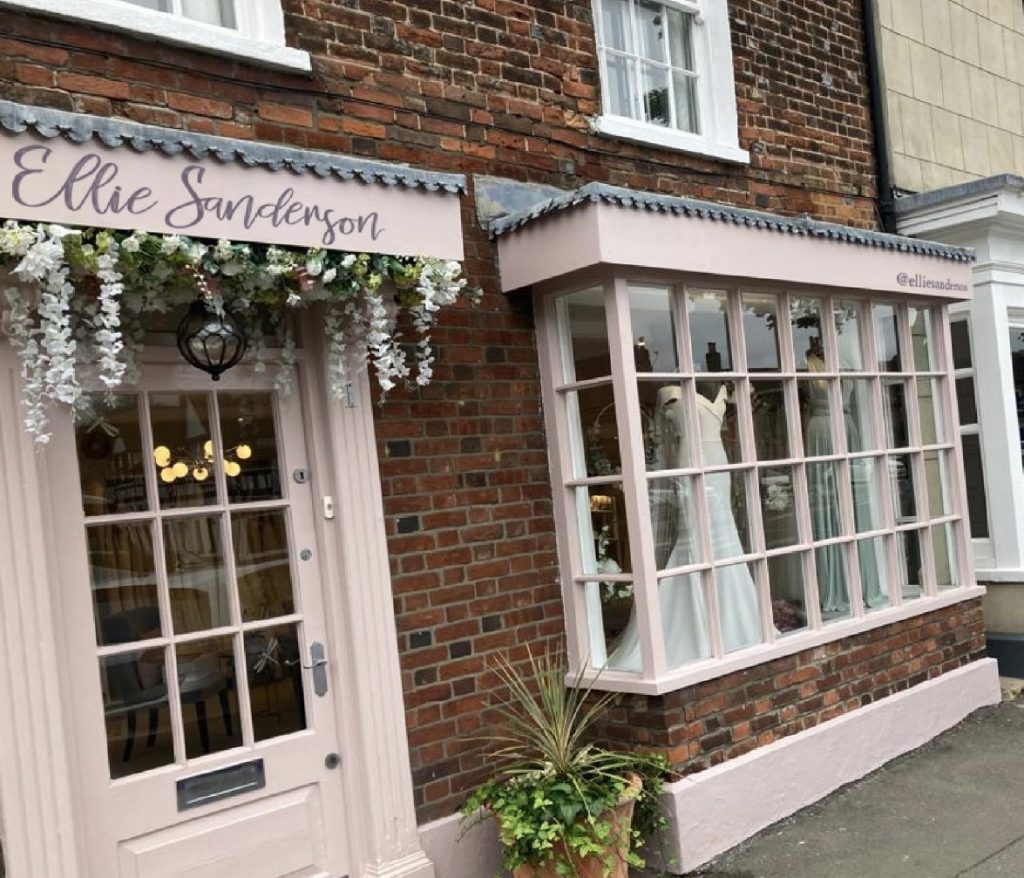 Before you start shopping, think about the following….
* What kind of day are you going to have? Is it a beach wedding, formal ballroom reception, winter vs summer, outdoor festival vibe or intimate dinner for 30? Different styles of weddings call for different styles of dress. The dress must match the essence of your wedding day or you will look out of context!
* Think about your body shape and your personal style. What are your best bits and which bits do you need to "skim" over! Be honest, but also be kind to yourself. Most women want to lose a bit of weight or tone up but be realistic here and don't put yourself under intense pressure.
* Do some sofa research, spend some time looking on Pinterest and literally pin all the dresses you love. Create a style board of all your favourite dresses. Then take some time to figure out what the common thread is between them. Is it sleeves, long train, fitted bodice, or is it lace or crepe fabric? Without exception you will have a style that you are just naturally drawn to. (Take your Pinterest board to the bridal studio when you go to your appointment as it really helps them see inside your head)
* Finally, think about the price range for your dress. Decide on the maximum you feel comfortable spending. Also don't forget to factor in alterations of your dress and all your accessories. Your veil, hair accessories, belts and shoes are vital parts of your wedding look too. Don't make the mistake of trying on something way outside your price range – you may fall in love and never be able to afford it.
Next up choosing The Right Dress Shop!
Things to think about….
* I am a massive fan of checking out peoples reviews, google reviews and on line wedding companies. You need to be utterly comfortable that you will be looked after first and foremost.
* Call the shop and talk to them about your wedding, you will know straight away if you will get the care and attention you are looking for, trust your instincts here.
* Check out their website and social platforms for real brides, this always gives you a good " feel " for the people you are going to entrust with your wedding dress.
* Once you have a short list of shops, make sure you love their product. That sounds crazy but why visit a shop where you haven't checked out what they sell and if it fits with what you love? People do, trust me. I think as
Ellie Sanderson is a well known name people just book to come without stopping to see if they like our edit of dresses.
* Next, book an appointment, yes all shops are by appointment. We insist that you do and that way we know you are coming. Then we can plan your appointment, think about styles to get ready for you and so on. Take only a few close friends, Mom and a few trusted advisors, too many opinions will leave you confused and stressed. You can always hook some people in via zoom when you find your dress! Or come back but take the pressure off to begin with.
So, you've done your planning, thought about the price range, researched the designers and shop you love – lets do this.
* This is not like buying a regular item of clothing and there is no magic stockroom full of dresses. Each dress is made to order taking into account any bespoke changes you may ask for.
* Start looking sooner rather than later. It's never too early to start trying on dresses as it will give you an idea of what you like and what suits you and bear in mind that 2022 and 2023 are the busiest years for weddings in decades.
* Dresses can take up to 9 months to be made, that's from point of order to delivery back into our studio. Some designers can of course make them faster and some can also do rush fees.
* Every wedding dress has to be altered to fit you perfectly, this includes bodice tweaks, hems and sometimes sleeves or shoulders. Alterations are usually done in the 6 week run up to your wedding.
* Some bridal boutiques are really popular and you may have to wait several weeks for an appointment, particularly on weekends, evenings, or in January – so if you have your eye on somewhere, book your appointment well in advance.
And finally, don't be afraid to "say yes". Don't expect your mom to cry, she may not. Don't expect to faint, you won't and don't think there will be thunderbolts and lightning, but you will feel overwhelmed, maybe flushed and a little surprised if it caught you off guard on your first try on. Do you remember the minute you found your partner, remember feeling that moment of excitement? I bet you grabbed it with both hands didn't you? It's the same when you find your dress, grab it with both hands and enjoy it. It's not the same if you step away and keep looking to improve it.
I always say to my brides, when you found your partner did you keep looking on Tinder? It's the same with your dress, there are millions of dresses out there but only one will give that first moment of excitement, once.
Happy shopping
X Ellie Sanderson
To book click here.